Mobilize your data. At no cost.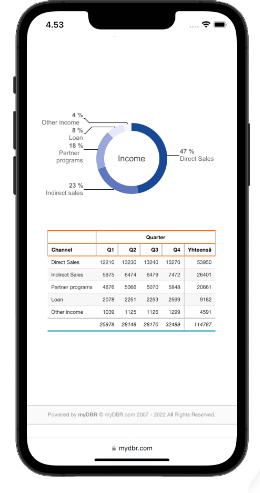 With myDBR's automatic mobile support (with optimized UI for all major mobile platforms), you can be mobile with a familiar user interface. All your reports are fully mobile-ready with no extra effort. Go mobile with your data!
Mobile optimizations done by myDBR
myDBR delivers mobile-optimized content to the device. myDBR takes care of the different technical aspects of the mobile device (different screen sizes, available browser plugins, input method, local storage availability, etc.) and delivers the same content, with a native user interface, to the user.
No additional costs for mobility!
myDBR offers the same functionality for mobile access as it does to the desktop user. No additional investments or development actions are involved. With no additional work, the same reports are available to mobile users. Since myDBR offers the data through a standard web browser, no client installations or setups are needed.
Secure access
Since myDBR delivers reports through a web interface, security is not compromised even if the device is lost.
Push Notifications
Want to get notified of important events or reach your employees outside the office? Use myDBR to send push notifications to iOS and Android devices.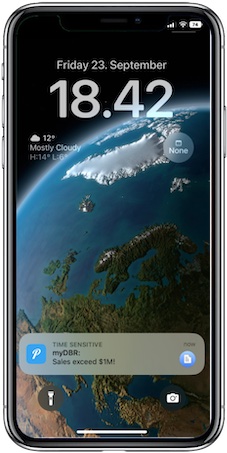 Benefits of the mobile access
Your data should be accessible wherever you are. With myDBR's mobile support, your data is always available to you.
With mobile access to your data, you can respond faster to business opportunities, stay always informed and have all the information with you, even if you are not at the office.